THE CHURCH FAMILY
Presenting Everyone Complete in Christ
Vol. L, No. 8 | August 23, 2023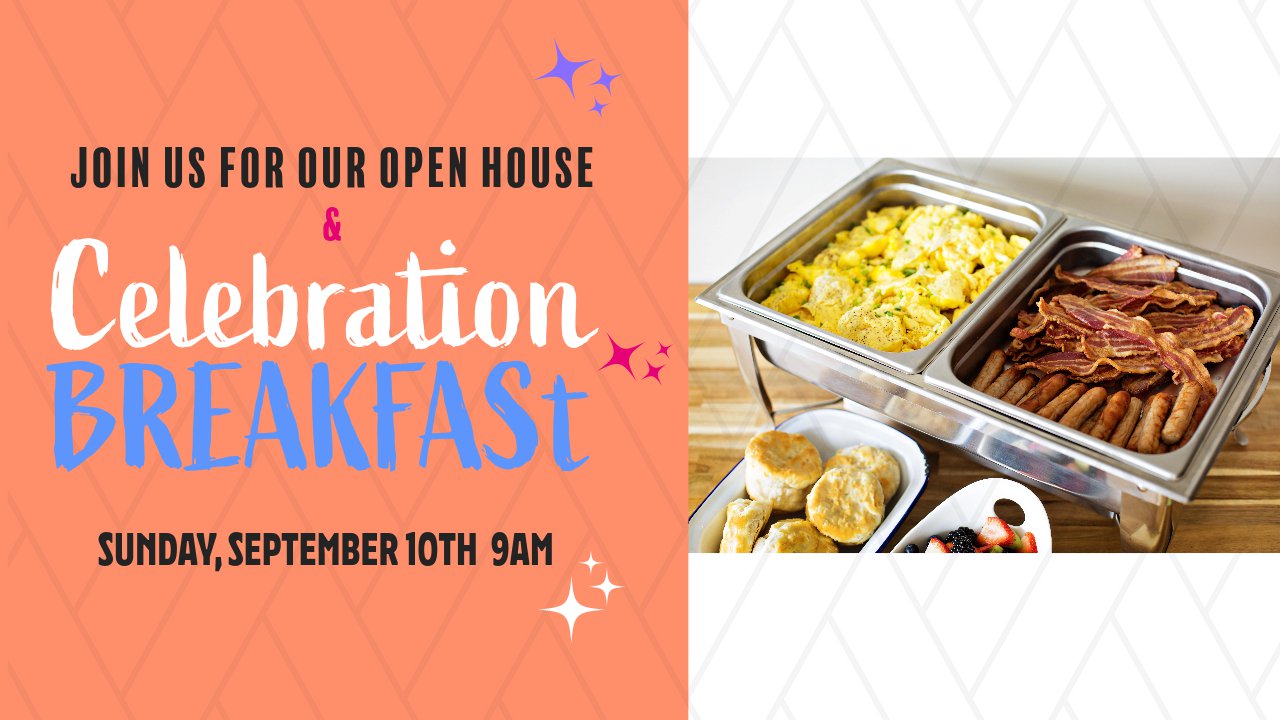 Celebration Breakfast and Open House
Sunday, Sept 10th 9am
Everyone is invited to join us for our Christian Education Celebration and Open House breakfast. During the Sunday School hour, we will eat the famous Robinson breakfast, learn and explore what will be offered for the upcoming discipleship year, and visit classrooms during Open House. Come join us to find out what exciting opportunities for spiritual growth await you and your family!
Christian Education News
SUNDAY SCHOOL
Our new Sunday School year kicks-off September 10th with a Celebration Breakfast and Open House. The new classes will begin on Sunday, September 17th.
EVENING ACTIVITIES
All evening activities will resume September 10th!
LIFE GROUPS
Life Groups are gatherings of adults who study God's Word in depth and enjoy a time of fellowship together
IMAGE BEARERS
Image Bearers is our Sunday evening children's program for children ages 3.5 (MUST be potty trained) through 5th grade. Our older children will be studying the Fruits of the Spirit and our Littles will study the curriculum "Big, Big God". No registration required.
NEW!! MEN'S DISCIPLESHIP GROUP
A new group for all men to connect, fellowship, and learn together.
WOMEN'S CIRCLES
Our Women's Circles begin to meet once again in September! Our groups gather once a month from September-June.
Officer Nominations
Officer NOminations CLose august 27th
Be sure to talk with your nominee(s), pray about your choice(s), and submit your nomination(s) no later than August 27.
Events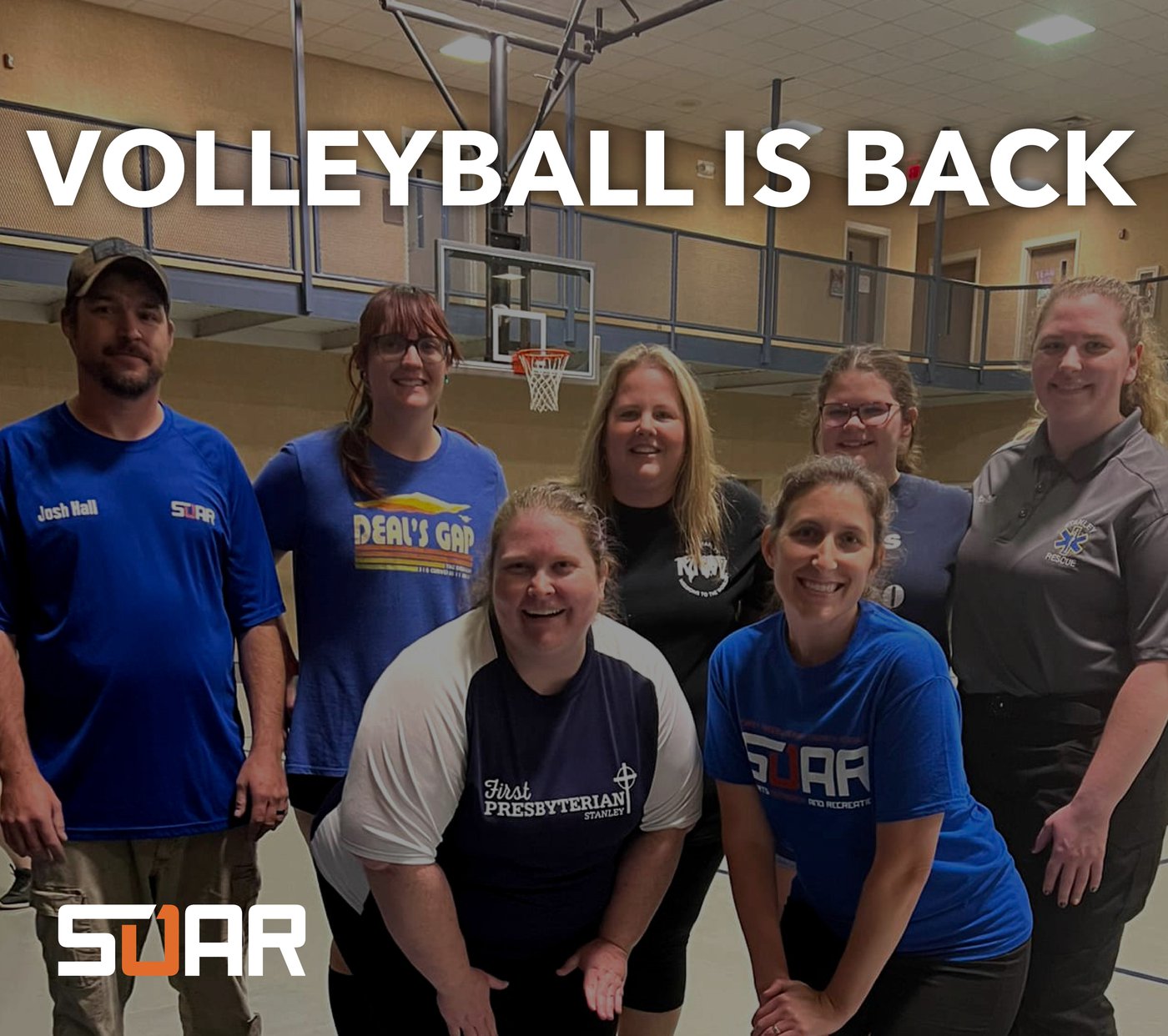 At SOAR, we believe in the power of community and the thrill of friendly competition. Our volleyball team brings together people of all skill levels for a fantastic time of play, fitness, and fellowship.
📅 Season Details:
🗓️ Season Start Date: September 11th
🏟️ Location: First Baptist Stanley
🕐 Game Times: Monday and Tuesday evenings
👥 Who Can Join?
Anyone 15 and up! Whether you're a seasoned pro or just starting out, our team welcomes players of all experience levels. We're all about having fun, making friends, and staying active.
📣 Why Choose FPC Volleyball?
Friendly Atmosphere: Expect lots of smiles and high-fives.
Great Exercise: Get your heart pumping and stay in shape.
Community Bonding: Forge lasting connections with wonderful people.
Don't miss out on the fun and fellowship of FPC Volleyball. Join us today and let's serve up some unforgettable moments together! 🏐💫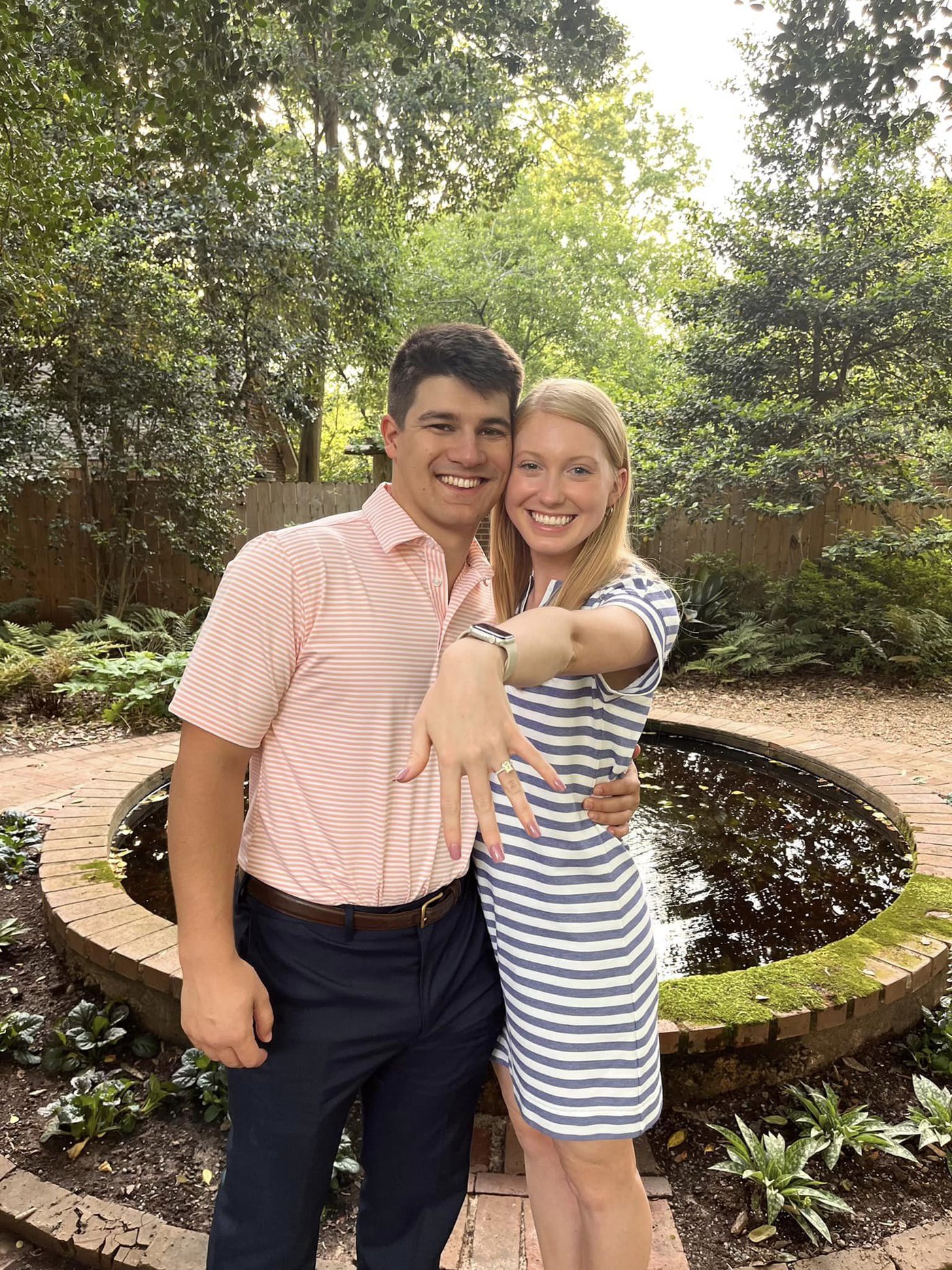 WEDDING SHOWER for KELSEY SMITH & PAUL BULLOCK
You're invited to a wedding shower for Kelsey Smith and Paul Bullock.
When
Sunday, September 10th 2-3:30 pm (Drop-In)
Where
FPC Founders Hall
The couple is registered at Amazon, Crate & Barrel, and Target.
Hostesses: Anne Abernathy, Janice Barton, Teresa Neely and Cathy Rhyne
BEST YEARS COOK OUT/COUNTRY FAIR
When
Saturday, September 23 12:00 - 3:00 pm
Where
Lineberger Family Farm
300 Kiser Dairy Road, Dallas
*Hotdogs & Hamburgers with all the fixings*
*Tractor Show*
*Cake Walk*
*Door Prizes*
*Other Surprises*
*Music*
DJ Brian will play a variety of tunes
With Our Church Family
Karen Ensley continues to recover at home from back surgery on July 27 to remove a cyst from her spine. Danny Wallace had surgery for a detached retina. Thankfully it appears the retina is re-attaching. Sarah Robinson was hospitalized on August 10 due to pulmonary embolisms. Ann Davis fell recently and broke a bone in her foot. Most of you are aware that Steve Jessen has received good reports after learning of a mass in his lung. He has had multiple scans that show the mass shrinking. On another note, Steve and Julie have settled into a new home. Their new address is 3905 Perney Court, Apex, NC 27539.
WITH LOVING THANKS
Danny and I thank you so much for your calls, cards, and especially your prayers. Danny's retina in his left eye has been repaired, and so far it seems to be re-attaching! We still need your prayers as the doctor says it will take 4-5 months him to heal. God sees us through everything!!
Thanks again,
Joyce Burt and Danny Wallace
Birthdays to Celebrate in September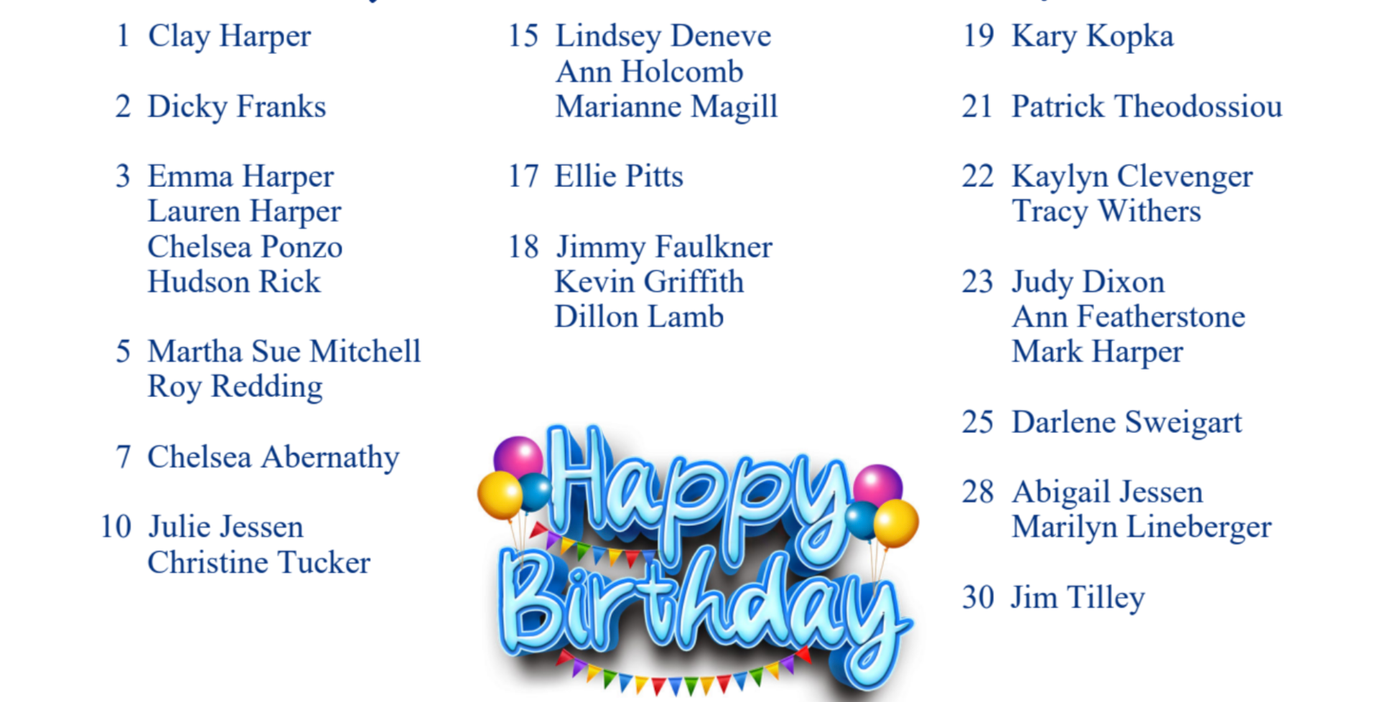 With Our Missionary Family
Items of prayer and praise for Andrew and Amanda Goyzueta who serve with Reformed University Fellowship at Davidson College: A new intern, Caleb Sklena, will be joining their staff this fall; and especially exciting, the Goyzuetas are expecting their third child (and first boy) in January!
Items of prayer and praise for Paul and Marty Clark who serve with Scripture Union in Peru: Protection from Dengue fever which has raised its ugly head in Lima where the Clarks live; and the exciting news that the last buildings are going up in Kusi (a short-term from FPC Stanley began the work there in 2003) to complete the little village which is a light to all the neighboring villages.

Ministry Opportunities & Updates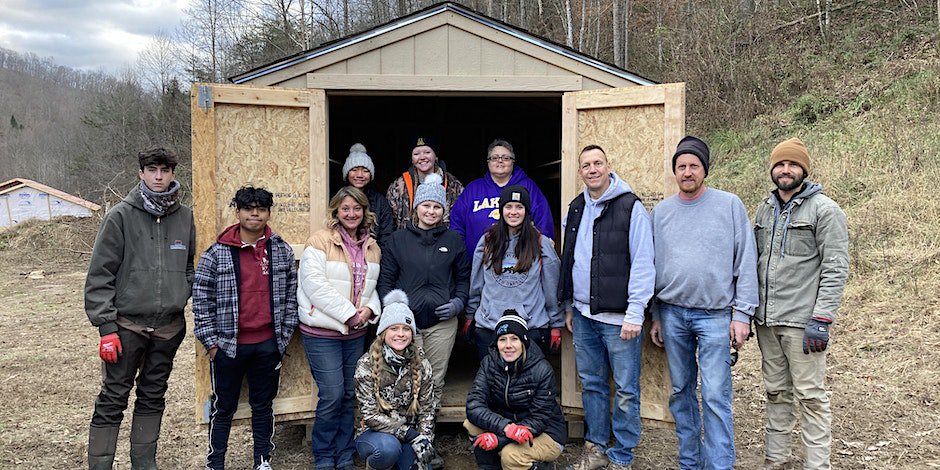 SHEDS OF HOPE TRAINING
When
Saturday, October 7th, 8:30am- 2:00pm (lunch included).
Where
Harvest Church in Lincolnton
Steve Jessen is leading a Sheds of Hope in-person training event at Harvest Church in Lincolnton. During this training you will participate in putting together an actual Shed Of Hope. You will be able to help in the assem-bly process and will become familiar with the steps of putting the Shed together. This hands-on training will equip you with the skills and knowledge needed to help provide a family with a secure and dry location for their belongings after a disaster strikes. Don't miss out on this opportunity to learn how to share the Hope of Jesus through this important ministry. Mark your calendars for this event. Space is limited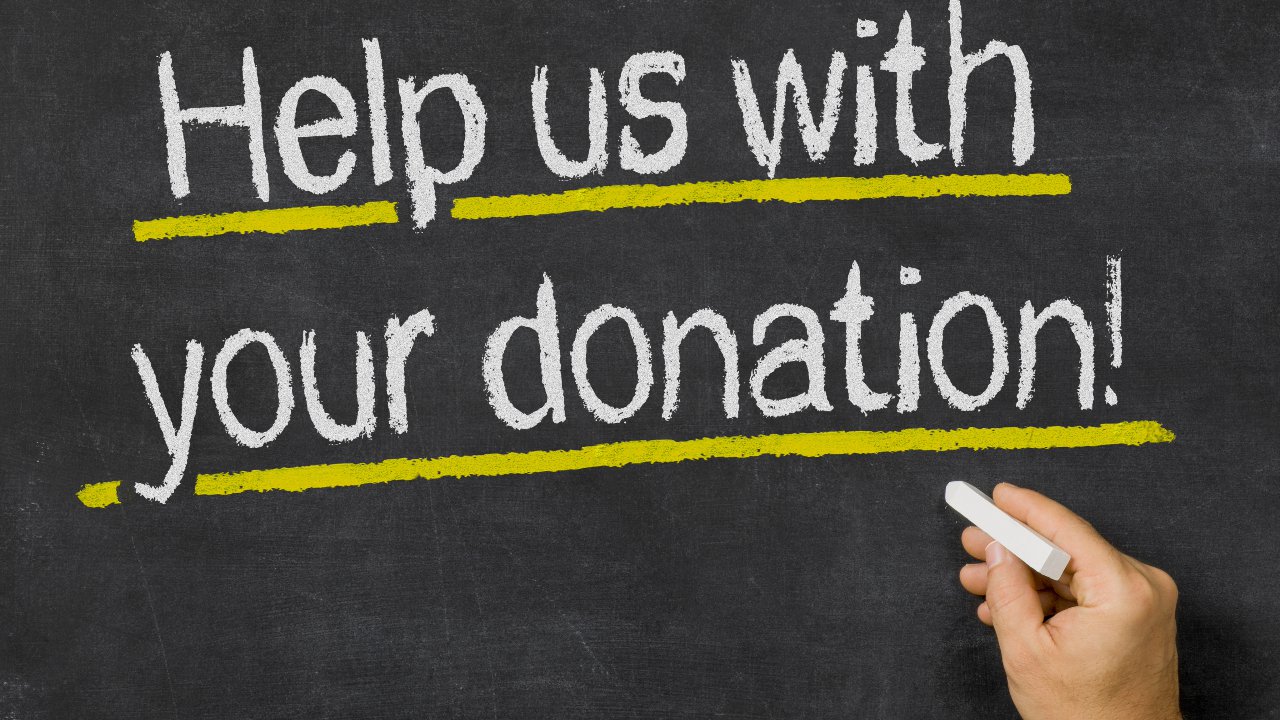 DONATIONS NEEDED
We recently received a heartfelt request from the principal at Stanley Middle School. She's reaching out on behalf of four international teachers who've chosen Stanley Middle School as their new home. These experienced teachers are all eager to expand their personal and professional horizons here in the US. They arrived with a suitcase of clothing but have very little to create a comfortable home. This is where you come in. We're not asking for big purchases or monetary donations, but if you have any good, gently used household items that could find a new home, we'd love your support!
What to Donate:
Small household items
Linens and bedding
Kitchen essentials
Bathroom necessities
Any contributions can have a big impact. If you have items to spare, you can drop off small
items at Stanley Middle School, or if it's more convenient, you can contact our church office to
arrange a time to drop off at the church.
For more details and to arrange drop-offs reach out to our church office: info@fpcstanley.org
or 704-263-4275. Thank you for your heart of compassion and generosity!
CPC BABY BOTTLE BLESSINGS UPDATE

Grand Total Received: $161,476.89
FPC Total Collected: $10,199.65
A big THANKS to all who participated!
July Financial Report
Needed monthly for budget .......................................................................63,007.50
Received in July for budget .........................................................................84,394.46
Needed to date for budget .......................................................................441,052.50
Received to date for budget .....................................................................430,332.66
Needed monthly for Faith Promise ............................................................11,700.00
Received in July for Faith Promise ..............................................................13,006.55
Needed to date for Faith Promise .............................................................. 81,900.00
Received to date for Faith Promise .............................................................85,744.68
Did you know?
In addition to bringing your tithes and offerings to the church, you can donate online. Donate online today . If you need any assistance, contact the church office.